Speaker – Honorable Judith S. Kaye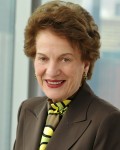 Judith S. Kaye joined Skadden, Arps, Slate, Meagher & Flom as Of Counsel in February 2009, focusing largely on arbitration and litigation. Before joining the firm, for more than 25 years she served in the New York State Judiciary, appointed in 1983 by Governor Mario Cuomo as an Associate Judge of the Court of Appeals (New York State's high court) and then in 1993 appointed by Governor Cuomo as Chief Judge of the State of New York. She was the first woman appointed to the Court, and served as Chief Judge for 15 years.
Before appointment to the bench, Judge Kaye was associated with Sullivan & Cromwell, IBM, and Olwine, Connelly, Chase, O'Donnell & Weyher, where she became that firm's first female partner. Her practice was essentially in the area of commercial litigation, supplemented by bar association and pro bono activities.
Judge Kaye gained a national reputation for both her groundbreaking decisions and her innovative reforms of the New York State court system. She wrote notable decisions on a wide array of constitutional, statutory and common law issues. As Chief Judge she also left her mark on New York's courts as a creative reformer, improving the jury system, establishing a Commercial Division of the State Supreme Court, bringing alternative dispute resolution into the court system in aid of litigation, streamlining procedures for permanency for children, and opening "problem-solving courts" to deal constructively with repeat offenders, offering services for drug treatment, mental health counseling and job training. She is the author of more than 200 publications, including articles on legal process, state constitutional law, women in law and professional ethics.
Her current Board service includes the American Arbitration Association, Lincoln Center for the Performing Arts, Volunteers of Legal Services and the Permanent Judicial Commission on Justice for Children. She is a former President of the Conference of Chief Justices and Chair of the Board of Directors of the National Center for State Courts.
She also has received numerous awards recognizing her judicial and scholarly accomplishments, such as the New York State Bar Association's Gold Medal, the ABA Justice Center's John Marshall Award, the National Center for State Courts' William H. Rehnquist Award for Judicial Excellence, the American Bar Association Commission on Women in the Profession's Margaret Brent Women Lawyers of Achievement Award, and the U.S. Department of Health and Human Services' Adoption Excellence Award.
She earned a L.L.B. degree, cum laude, from  New York University and a B.A. degree from Barnard College.
Judge Kaye will receive an Honorary Degree from Syracuse University at the 2013 Commencement Exercises.