2016 COLLEGE OF LAW COMMENCEMENT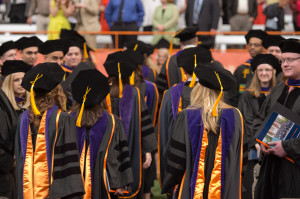 Date:  Friday, May 13th
Time:  1:00 pm
Location:  Carrier Dome
Ceremony will end around 2:45pm.  Optional reception in the Levy Atrium of Dineen Hall immediately following ceremony. Gowns and hoods may be returned in the Dome or Dineen Hall.
If you will not be able to attend, please feel free to watch our ceremony live here.
ATTENTION GRADUATES: see here for future information sheet
Important Security Reminders/Information for Commencement Weekend
Convocations and Commencement Security Procedures
As part of an ongoing effort to ensure a safe and enjoyable event, all guests and degree candidates will go through security screening including metal detection prior to entering Convocation and Commencement venues (Carrier Dome, Manley Field House, Schine Student Center, Hendricks Chapel, and Setnor Auditorium in Crouse College).  Please allow additional time. 
As in past years, large bags, backpacks, duffel bags, and large shopping bags will not be allowed and degree candidates and all guests may not bring bags larger than 10″ x 10″ into Convocations or Commencement.  All purses, binocular cases, and camera cases will be opened and inspected.  There will not be a holding area for items at any venue.  Trash cans will not be placed outside the perimeter of the Carrier Dome.
As always, the following items are prohibited:
Firearms, explosives, fireworks.
Air horns, backpacks, balls, balloons, banners, beach balls, coolers, confetti, containers, large purses, duffel bags, laser pointers, noise makers, inflatables, promotional items, shopping bags, large signs.
Food and beverages may not be brought into the Carrier Dome, except if for medical reasons or for infants.
Service dogs are the only animals permitted inside of Commencement Weekend venues.
As a reminder, those who may have trouble walking distances should plan to arrive with a wheelchair.  Syracuse University does not provide them.